29th October - Supersport United vs Ajax Cape Town at the Cape Town stadium.

---
The aim of SSUSS is long term and ambitious: to change the game of football for the better and to make it more exciting and skillful by changing the manner in which young people and coaches are trained. The SSUSS syllabus covers every area of football. - Futebol de Salão (FDS) - Emphasis on Individual Skills. - Increased Training Time. - Physical Training. Futebol de Salão (FDS) is a 5 aside version of football, originating in South America, that is played with a smaller (size 2) and heavier (645g) ball that has virtually no bounce (10%). The game became very popular in Brazil with players such as Pele, Rivelino, Zico right through to Juninho, Rivaldo and Ronaldo who were brought up first playing FDS before moving on to conventional football.
---
VENUE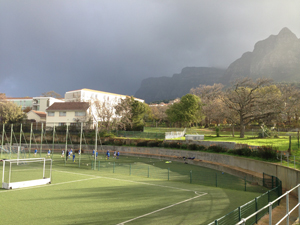 ---
PRACTICE SESSION WITH VISITING COACH FROM KZN - PETER HOOPER
SSUSS The coaching is unique, innovative and the most complete development programme of any sport worldwide. We may be copied, but we will never replicated, and no one has ever come close to achieving the same results. Join us at our next holiday camp for the SSUSS experience.
Register today! Visit our Facebook page for videos or just to chat.